Lina Papadopoulou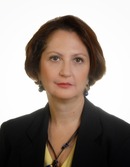 Triantafyllia (Lina) Papadopoulou is a Professor of Constitutional Law at the Aristotle University of Thessaloniki (AUTh), Greece, holder of a Jean Monnet Chair for European Constitutional Law and Culture, and Academic Co-ordinator of the AUTh Jean Monnet Centre of Excellence on "European Constitutionalism and Religion(s)" (2018-22). Her main teaching at the Law School includes Constitutional Law and European Human Rights Law and Gender issues. She also teaches at the Master programmes "Bioethics and Medical Law" and "Religion, Geopolitics and International Security".

Lina studied Law at AUTh (Bachelor 1993), Trier (LLM 1994) and Hannover (PhD 1998) as well as Political Theory at the London School of Economics (LSE, MSc 1999). She was a Post-doc 'Marie Curie' Fellow in the field of European Constitutional Law at the LSE (2000 and 2001) and AUTh (2001/02).

Her primary areas of expertise include national, comparative and European constitutional issues and human rights, focusing on democracy and political parties, economy and the constitution, equality and non-discrimination, religion and the state, and bioethical issues. Her publications include monographs, handbooks as well as approx. 100 articles in Greek, English and German.
Obras del autor